Links
Below you will find a number of carefully-selected links to English language websites about Norway - they are likely to be of particular interest to visitors from outside Norway.
News and general information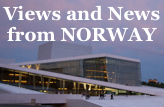 Maps and Photos
Travel/tourism information
Visit Norway - Official site from the Tourist Information Board.
Fjord Norway - Tourism information relating to the western fjord country.
GoNorway - Comprehensive site with lots of useful information, including panoramic images.